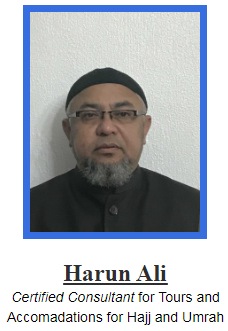 ABOUT HAJJ 123
We are number 1 Approved Agent By Saudi Tourism Authority. Travel the world with HAJJ 123 and learn about Islamic History and its Heritage with accomplished scholars and tour guides. At HAJJ 123 we pride ourselves on personalizing your experience for a perfect spiritual getaway. Relax and let us take care of things. We will arrange your visas, flights to Jeddah/Medina airport, coach service from Jeddah/Medina to your hotel in Mecca/Medina, pre-hajj seminars and the finest deluxe and 5 star hotels. read more
----------------------------------------------------
Feel free to Contact with us:
Address: 677 Morris Park Ave Bronx, New York, 10462
Call: 646 244 6018, 718-414-5135
Email: Harunali@hajj123.com
---
Thank you very much for everything you have done for us. May Allah bless you and increase your ability to help people for their hajj. Insha allah I will contact you for further Hajj and Umrah in future.

Alhamdulillah recently we visited to umrah through this Hajj 123 n we r really happy to get a very good service from them. InshaaAllah next time we will go through them once again.

Recently we visited Egypt and performed Omrah through this Hajj 123, we really very happy with their service and would like to thanks Mr. Harun Ali Vhai for organizing the wonderful trip!!!

Dear Mr. Masum thank you very much for hospitality during Umrah, my wife very much thankful to you & your team, thank you again.

I have completed Umrah last month (January, 18) via hajj 123 with my family and I got everything in Mecca and Madinah as they have committed to me as part of the package. Highly appreciate their quality service. I will definitely recommend them.
---